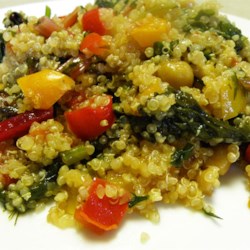 For this month's Color Me Badd Diva theme, I randomly ended up with yellow. Several of the Divas are not curry fans (and it definitely smells up your house) so I went with a dish that used yellow peppers (and the Quinoa is "yellowy" I guess.)
Chicken Sausage on Quinoa with Peppers
1 Tbsp butter
¼ onion, diced
sea salt to taste
1 cup quinoa
2 Cups Chicken Broth
2 Tablespoons extra-virgin olive oil
Chicken sausage links
½ onion, cut into thin strips
2 cloves garlic, minced
1 Tsp Spanish paprika
½ Tsp ground cumin
1 red bell pepper, cut into thin strips
1 yellow bell pepper, cut into thin strips
1/2 cup chicken stock
sea salt and pepper to taste
Directions
1. Melt the butter in a large pot over medium heat. Stir in the diced onion and sea salt to taste; cook and stir until the onion has caramelized to a deep brown, about 15 minutes. Once caramelized, pour in 2 cups of chicken stock and the quinoa; bring to a boil over high heat. Reduce heat to medium-low, cover, and simmer until the quinoa is tender, 20ish minutes.
2. Meanwhile, heat the olive oil in a large skillet over medium-high heat. Brown the sausages. Remove to drain on a paper towel lined plate, and keep warm.
3. Reduce the heat to medium, and stir the sliced onion into the remaining oil in the skillet (add a bit more if necessary.) Cook until the edges of the onions begin to turn a golden color, 3 to 5 minutes. Add the garlic, and cook 1 minute more. Season with the paprika and cumin, then stir in the red bell peppers, yellow bell peppers, and 1/2 cup of chicken stock. Bring to a simmer, then cook until the peppers soften, and the mixture reduces and thickens, 10 to 15 minutes. Return the sausage to the skillet, season to taste with salt and pepper, and continue cooking until the sausage is hot. Serve over a bed of quinoa.